Any true poker fanatic knows just how much online poker has changed the face of the game. Now with practically unlimited access to poker, some states have placed restrictions on online gambling sites. That's where using a VPN can prove to be incredibly useful.
Virtual private networks (VPN) can come in very handy when you want to access online poker games from restricted locations. But there are some risks with it.
To use a VPN to play online poker, you need to download a legit VPN like ExpressVPN or Surfshark. After downloading it, you have to adjust the settings and configurations so it can function on your device. Select a server in one of the hundreds of locations around the world and you're ready to go!
If you're new to online poker or don't know much about advanced technology like VPNs, it helps to learn a little bit about what they're for. You can then make an educated decision on whether you're going to use one or not.
VPN Basics
Don't download a VPN just yet! Before jumping the gun and downloading a VPN, you want to make sure that you know what a VPN is and why it might be useful to you. It also helps to know about the different types of VPNs so you can make a better choice when it comes time to download one!
VPNs are very effective when it comes to keeping your browsing information and location private.
There are potential consequences that come along with using a VPN, especially when you're using them for gambling.
It's important to weigh the possible negatives before making your final choice.
How VPNs Work
Think about how your computer and phone work when connecting to the Internet.
Every time you use your Internet-enabled device, your browsing data and location is sent to a nearby server that you're connected to. That means your data and personal information is stored by these servers.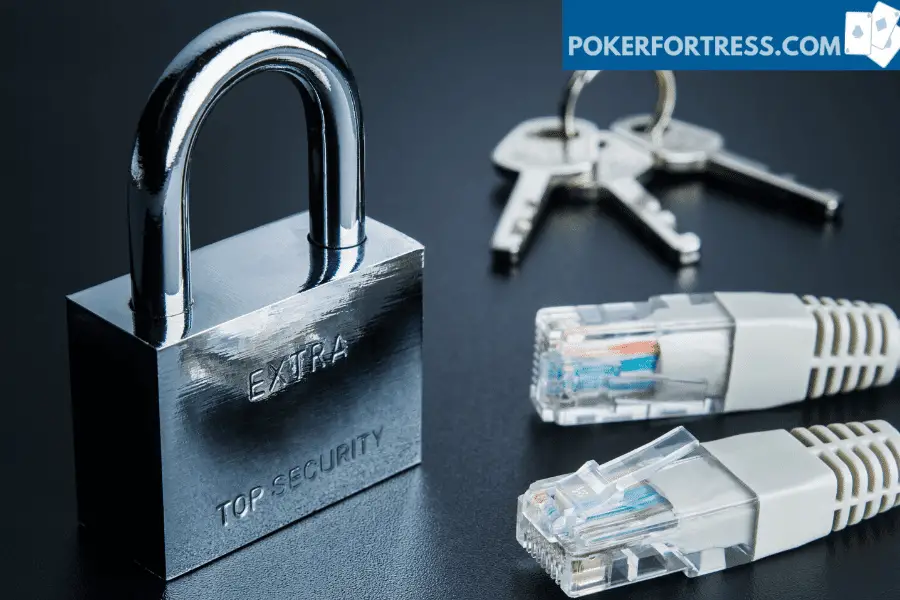 VPNs hide your browsing history and make it look like you are connected to the internet from some other place (that you can choose.)
When you install a VPN on your device, you're able to select a different server from any available location in the world. If your VPN provider has a server in California, you can make it appear as if you're using your device in California rather than your home state of Virginia.
VPNs work to disrupt the communication of data between your phone and the server. That's exactly why VPNs are used. They can hide your browsing history and web traffic while keeping your physical location in the world private.
Why You Should Use a VPN
You don't have to use a VPN when you're using your Internet-enabled device, but a VPN can be pretty useful for several reasons. When it comes to online poker, here are some reasons you might want to consider using a VPN on your device.
Keep your data and browsing history private. When you use a VPN, the website or app that you're accessing through your device won't have immediate access to your data or browsing history. When it comes to online poker involving real money, a VPN can prevent an unsecured server from accessing your bank or credit card information. This can help to keep your accounts safe and secure.Maintain anonymity to an extent. There's no way to remain absolutely anonymous online, but VPNs can help to get around the system in a way. When you access the Internet, your IP address is recorded, tracking your physical location at the same time. By manipulating the communication between your device and the server, there's no way to tell who accessed the server and from where. VPNs can serve as an added layer of protection when using the Internet.Maneuver around laws in your state or country. This is likely the reason you're looking to use a VPN for online poker. Many states have laws in place limiting access to online gambling websites, including online poker. By allowing your device to connect to a server in an area where gambling is legal, the app or website will read your new location and allow access to the site. You're essentially tricking the online poker website or app to think you're in a place where gambling is legal.
There's no doubt that a VPN can allow you greater access and protection when playing online poker, but there's a lot more that goes into VPNs that you need to be considering. That includes the different types of VPNs that you can use and the possible consequences of using a VPN to gamble online.
Types of VPNs
Just like most apps, there are both free and paid versions of VPNs.
There are positives and negatives to each. Take a look at the major differences between the average free and paid VPNs to see which type would best fit your needs.
Free VPNs. When you download a free VPN, you're just getting the basics. Without a monthly or yearly fee, your data is more likely to be stored and sold by the app. You also might be risking security and have limited access to servers worldwide.Paid VPNs. When you pay for a VPN, you're helping to guarantee yourself greater security and access to new servers. You might have direct access to support systems developed by the company. You'll also have a greater number of servers to choose from.
Ultimately, you have to determine whether a free VPN is worth sacrificing some security. A paid VPN isn't for everyone, but they are more likely to be secure and functional.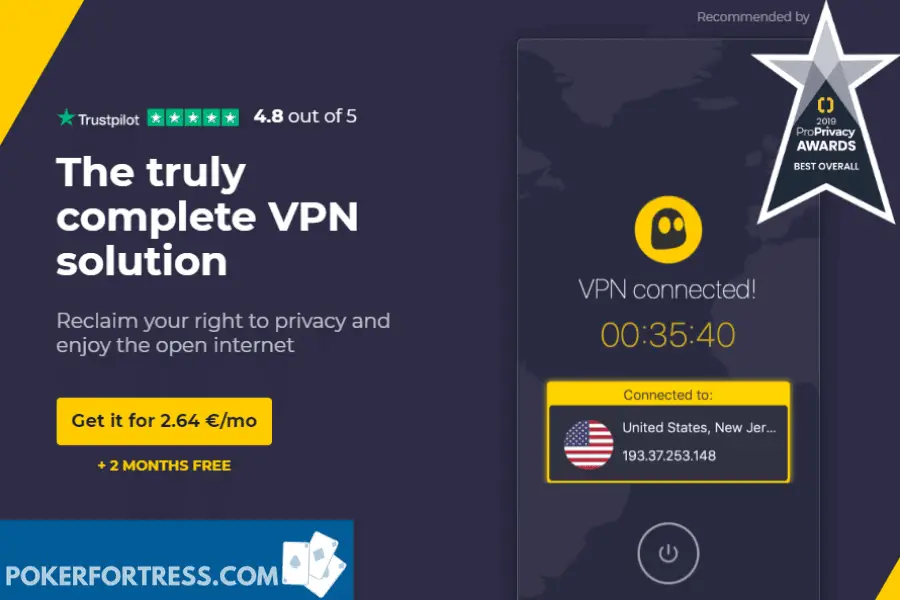 There are many decent VPNs out there. One of my favorites is the CyberGhost VPN. It has very affordable prices.
Legality & Potential Consequences
Consider why you're using the VPN in the first place.
If it's to circumvent the gambling laws in your state or country and play online poker, you are putting yourself at risk for possible legal consequences. That means getting caught might result in hefty fines and charges being filed.
There's also the possibility that the online poker app or website that you're using is able to identify that you're using a VPN. If that's the case, you might not be allowed access to the program until your actual location is verified.
When a gambling site or app catches you in the act of using a VPN to illegally gamble in your state or country, you might be banned from using their site. Keep that in mind before you attempt to use a VPN to get around the laws.
The benefits of winning money and having fun playing online poker are great, but the risks can be substantial.
How to Use a VPN
Now that you've decided that a VPN would be a good choice for your online poker playing, it's time to select the right VPN and get it set up properly. We'll help you to figure out how to know if a VPN is reliable and safe before downloading it.
Once you download the VPN, you need to set up your device to allow your new VPN to work as it should. After you get your device up and running, you can select a server anywhere in the world and get to your first game of poker as soon as possible!
Choosing a Provider
Deciding on downloading a VPN to your device is a great first step. Now you need to think about how to choose the right VPN for your online poker playing needs.
The first thing you need to think about is whether you're willing to spend a little bit of money on your VPN. There are several paid VPNs that offer greater security and more server locations for less $100 a year, so you do have quite a few options when it comes to paid VPNs.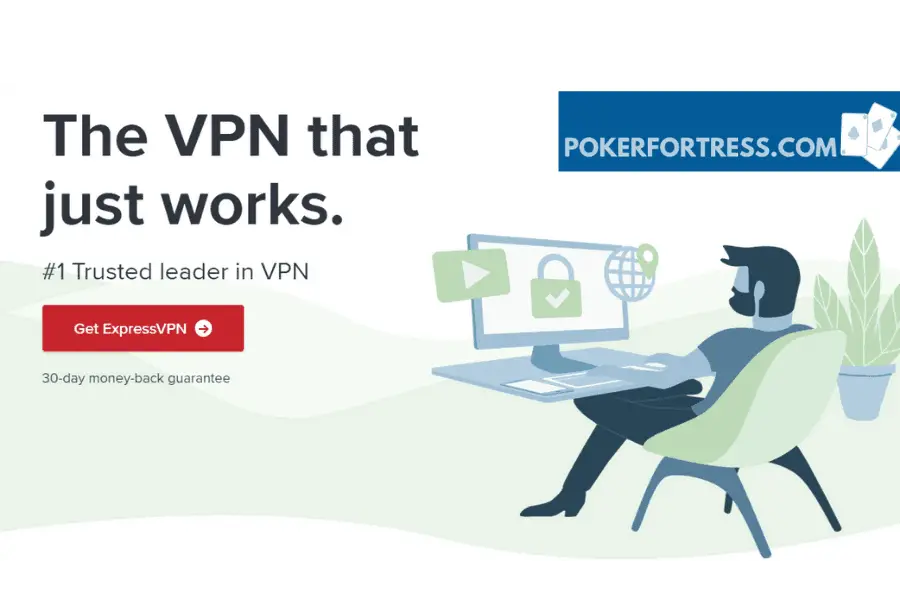 Express VPN is one of the bigger players. It is reliable but costs a bit more.
Here are some tips for helping the best VPN provider for you.
Think about your operating system. A particular VPN might be great, but it won't be very useful unless it works on your operating system. You need to make sure that you know what your operating system is (Windows, Mac, Linux, etc.) and verify that the VPN that you're interested in is supported by your operating system.Consider server locations. When you're gambling to bypass the laws in your area, it wouldn't make much sense to select a VPN that only has servers in locations where gambling is illegal. You need to guarantee that you'll be able to access the websites and apps you use to play online poker. Check to make sure that you have plenty of server locations where gambling is legal. Review user feedback. A company's website might brag about the incredible VPN features, but that doesn't always mean that you're getting a quality product. You'll want to look over some user feedback from verified consumers to guarantee that the product works the way it says it will. If a VPN has consistently negative reviews, you might want to consider downloading that particular VPN.Read about the company. All VPNs have the same goals, but not all companies are ethical and moral. There are plenty of VPN providers that will store your information on their program and even sell it to advertisers. It's important that you make sure that you're downloading a VPN from a reliable company that created a genuinely useful product.
Now that you know what you should be looking for, it's time to begin your search for the perfect VPN. As we already mentioned, there are free VPNs, but they just don't seem to be as effective as paid versions.
Take a look at some of the better examples of paid VPNs and what makes them better than the average VPN.
CyberGhost VPN. For less than $5 a month, you have complete access to over 6,000 servers worldwide in over 112 locations. This is one of the most affordable VPNs with impressive server access.ExpressVPN. This is one of the most reliable VPNs out there as the system rarely ever crashes or disconnects. For less than $100 for the whole year, you'll have access to over 3,000 servers in more than 160 locations.Norton Secure VPN.  At less than $40 for the entire year, you'll be able to access over 1,500 servers spread throughout 73 cities in the world. In addition to being supported by major operating systems like Mac, Android, Windows, and iOS, you'll also have 24/7 access to a live customer support line.Surfshark. This VPN is truly the whole package. You'll be able to access over 1,000 locations in 60 locations while spending less than $100 for the whole year. This program also offers ad-blocking and tracker-blocking features, making it one of the most secure VPNs available.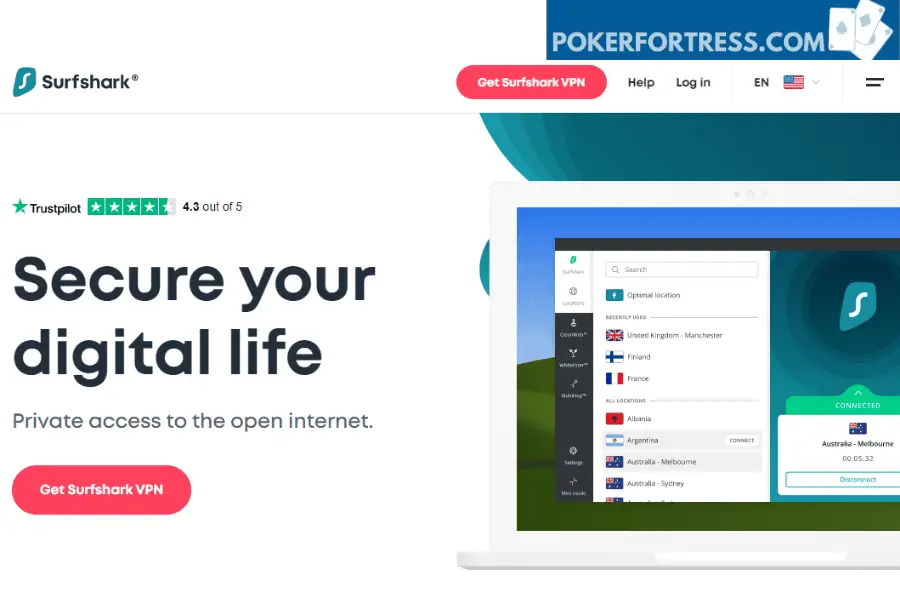 Surfshark VPN is a good option to use for playing online poker. Good yearly subscription plan, and a decent amount of different locations. It comes in with some other handy additions.
Once you've decided on a VPN to install, you'll be on your way to playing online poker in no time!
Changing Your Settings & Setting It Up
Once you've downloaded your VPN, you need to configure it to run properly on your system. This step won't take too long, as many VPNs come pre-configured to run on your device.
The most important thing you need to do is adjust the settings on your device to allow the VPN to function. That includes filling out the server and host information and possibly the username and password associated with your new VPN.
All of this information will be provided by your VPN software and you shouldn't have any trouble getting things going.
Now that it's up and running, you can change the settings to make it run how you want it to. Take a look at some things you'll want to consider adjusting when configuring your VPN.
Automatic vs. Manual Set-up. Most VPN software allows you to decide when you want your VPN to be used. You can choose to always use a VPN when using your computer, but you can also adjust your settings to manually turn your VPN on and off when you need it (like when you're playing online poker!).Unsecured Connections. Though you're using a VPN to gain access to gambling sites and apps, they're most often used to prevent your device from connecting to unsecured Internet like public Wi-Fi. Some VPNs have settings that allow your device to connect to the VPN whenever it recognizes that your device is connected to an unsecured server.Server Selection. It's also possible that you'll be given the opportunity to select which servers you'd like to automatically connect to. This can save you the hassle of having to pick a new server each time you want to play online poker.
Once you've got your VPN all set up and ready to go, you're almost ready to play! Just one more step until you're up and running!
Selecting a Server
Now that you have access to thousands of servers across the globe, you might not be sure which ones you should even try connecting to. There are quite a few things you should think about when choosing a specific server. Here are the things you want to consider.
Location and gambling laws. You're here to play online poker and you're likely living in a state where it's illegal. With that said, you should be doing a little bit of research to figure out which states and countries support online gambling. It would make no sense to connect to a server in another state where gambling is illegal.Server speed and connectivity. The last thing you want to experience when playing online poker is a loss of Internet connection. This can end your game exactly where it is and cause you to lose some money! Servers in Europe and the United States are known for supporting better connections, so you might want to start there.Physical distance from you. You obviously don't want to select a server in your current state, but choosing a server across the globe can slow your connection speed. That's why it's best to choose a server that isn't too far from you but is in a location where online gambling is currently legal. Try to stay in your own country, when possible.
Once you've chosen your server, try it out to make sure your Internet speeds are ideal and would support the high-speed action of playing online poker. If it does, you're ready to get in the game and start winning some money!
Conclusion
When you want to expand your gameplay to websites that you're unable to access in your state or country, VPNs can be the most effective method. Make sure you're considering the consequences before deciding to use a VPN while playing online poker on one of your devices. Here's a quick walkthrough of how to use a VPN.
Download a credible VPN to your phone or computer. There are a variety of options, but ExpressVPN is one of the most respected names in the industry. And they don't keep logs (this was proven in a court case), so you're safe even if someone subpoenas the company looking for your information. Change the settings of your VPN to be compatible with your device.Select a server in an area that allows citizens to use online poker sites.
Related Articles